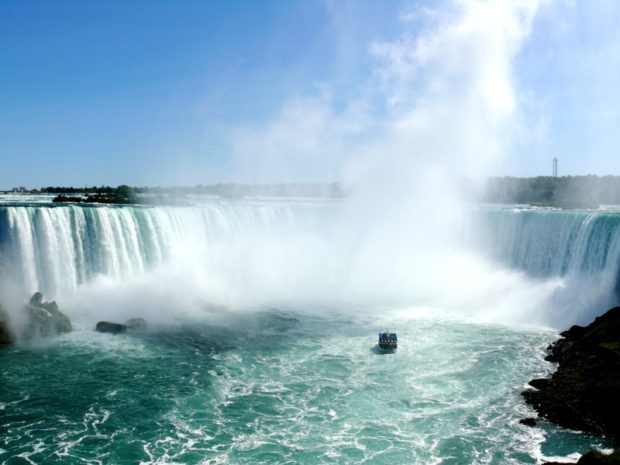 A few weeks ago I visited Niagara Falls for the first time. I had always imagined it was an old fashioned, hokey honeymoon place. For that's what people did in my parents' era, take a trip there. I hadn't rushed to follow.
But what I found was a gorgeous force of nature that pulled me in with its mist, pounding water and wonder. There were families from all over the world taking photos, enjoying the majesty of the falls. It was a group celebration.
On the Hornblower boat the Captain drove us up to the edge of the falls. Young and old were in amazement. I hadn't felt that kind of excitement in a long time. I remarked, "This is like an Imax movie". But it wasn't, it was real. We were totally immersed in this natural spectacle. It felt somewhat spiritual and electric.
This experience made me think about times when we are pretending versus times when it's the real deal. I remember seeing people at the Venetian Hotel in Las Vegas paddling pretend gondolas and thinking, this is nothing like Venice. No smells, no Italian language, no damp air, no atmosphere. Much of our entertainment in the U.S., at least, is an amusement park. As little kids we beg to go on rides and be amused. Even more with video games, we act virtually without real people or challenges.
What are we missing when we pretend through life? Using reality shows, movies, tv, sports and books we plunge ourselves in strangers' lives. Is it easier to be an observer than live a genuine life? Or is this one form of learning? Absent consistent role models. More often through technology we seem to be distancing ourselves from relationships.
In your career how are you expressing your authentic self, your bona fide interests? Is your work meeting your needs for purpose and value or is your main benefit the paycheck? Gina is right out of college and snagged her ideal job. Since high school she has been part of a movement. She's worked as a volunteer for five plus years and her enthusiasm has paid off with this position. Not only is she advocating for a cause she believes in, Gina is growing her professional skills in organization, public speaking and interpersonal relations. She's on cloud nine.
Brad is not so fortunate. He began his career 20 years ago with hope and excitement. However, his workplace's bureaucracy has stifled Brad's creativity. Over the years his efforts to make changes have been met with rejection and his client contacts are feeling repetitive. Brad is not being fulfilled and the stress is effecting him physically and psychically. He pretends to the outside world that all is well, but inside he knows he must change something.
What can you do to more accurately convey your authentic self? One is to take a temperature reading of what is going well and what is going poorly. Does your work matter to you and to the world? As we age, making a contribution is more important than material possessions.
"There is nothing more beautiful than seeing a person being themselves. Imagine going through your day being unapologetically you"
Steve Maraboli
What is unique about you? What special gifts and interests do you love to express? How can the world or even one person benefit from you? What do you like to learn? What is a day well spent? It seems that contribution versus consumerism allows us to give back and add to the world around us. I'm reminded of Al Gore who suffered a disappointment in winning the job of his dreams. But he returned to an old interest and has established a community working on improving the environment.
Do an authentic check up:
Am I using my talents and interests?
Is this the real me showing up?
Where would I rather be?
Can I stay or is it time to go?
Sail on and see you on the path!